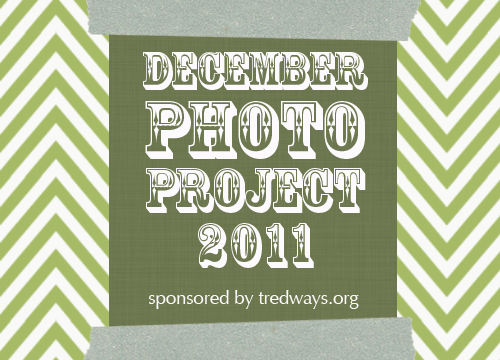 The December Photo Project is easily one of my favorite traditions each year. It's starting in just three days, and I have been so excited to pull out the camera daily again. (I had been taking a photo a day—not perfectly but quite faithfully—since August 2010, but I recently gave myself a break from the dailies.)
I have been so eager to begin, in fact, that I already have draft entries—complete with links to my photos from past DPPs—for each of the first 25 days of December. It looks like I didn't have a camera for 2005 (I can't remember why), but I have participated since 2006. Apparently, I wasn't as committed the first two or three years, but for the past two years at least I have posted every day, even if some of the shots were, well, lacking.
One thing I love about the DPP is that it is pretty much impossible to plan what shots you will actually come up with. Every year I have dreams of Pinterest-worthy pictures of my kids catching snowflakes on their tongues and pretty, twinkly lights bokeh. But sometimes, you know, you just take a shot of a random toy at 11 pm. That's okay too. This year feels particularly mysterious: perhaps Baby Girl will stay put as long as she's supposed to, or perhaps I will post for several days the view from a hospital bed?
In any case, it's a fabulous project, a great little time capsule each year. If you haven't already, sign up here. You know you want to.